Fairbanks' Golden Heart Park is located in the center of town on the south bank of the Chena River, near the spot where the founder of the city, captain E.T. Barnette, first landed in 1901. The park features the sculpture of 'The First Unknown Family'.
Near the statue plaza are The Fairbanks Convention and Visitors Bureau log cabin and two Fairbanks landmarks: a clock tower and the unofficial 'last Alcan milepost' with distances to places like Bombay and Barrow.
The idea of the plaza stemmed from a celebration of the silver anniversary of Alaska's statehood. Construction was competed in 1987. A 'time capsule', to be opened on the 3rd of January 2059, is buried on the riverbank of the park.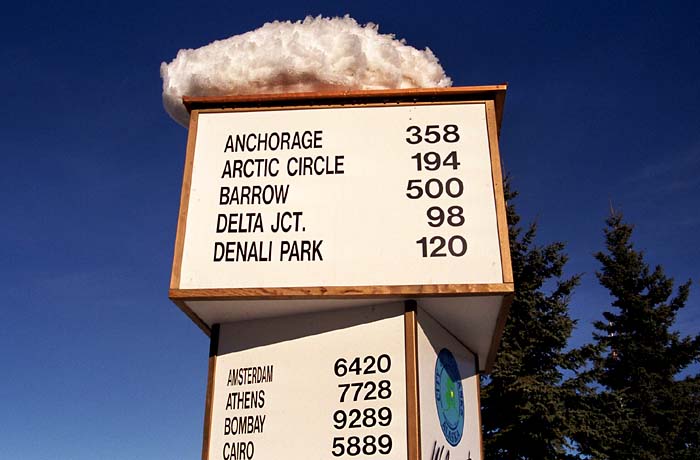 This milepost proclaims the unofficial end of the Alaska Highway (Dawson Creek, BC to Fairbanks). The official end of the Alcan is at Delta Junction.
Some distances are in 'road miles', others are in 'air miles'.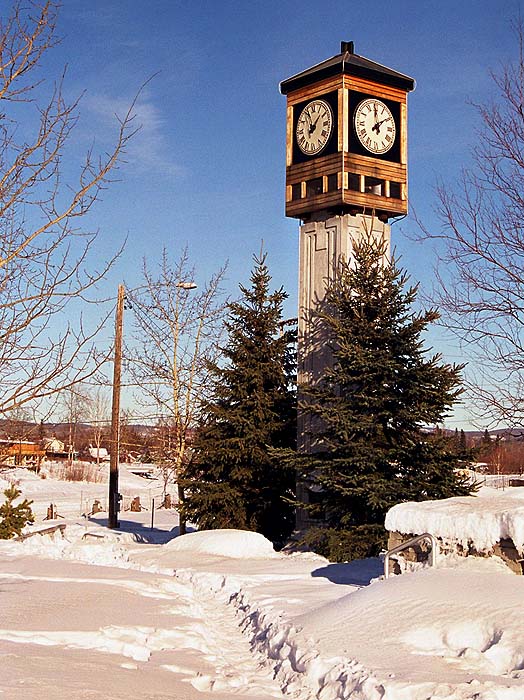 The clock tower in Golden Heart Park, donated by the Fairbanks Rotary Club
The 18-foot bronze statue of the 'Unknown First Family', by Malcolm Alexander, is the centerpiece of Golden Heart Park and is 'dedicated to all families past, present and future, and to the indomitable spirit of the people of Alaska's interior'.

Links:
Fairbanks index
Fairbanks Visitors Bureau